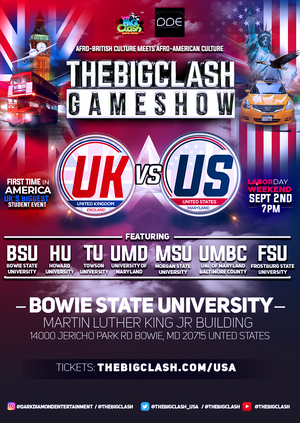 The Big Clash UK v USA
2nd - 4th Sep 2018
at Bowie State University & Martin Luther King Jr Center
Add to Calendar
2018-09-02 22:20:00
2018-09-04 17:00:00
Europe/London
The Big Clash UK v USA
UK v USA  Be a part of the fun! The Big Clash Gameshow presents its FIRST BIG CLASH GAMESHOW IN THE United States. We've invited TWO All Star USA Teams to take one All Star UK team. Competing to be crowned CHAMPION.▬▬▬▬▬▬ TeamUK v Team US ▬▬▬▬▬▬Joining forces with Dark Diamond Entertainment to bring everybody a night of culture and entertainment. With the best performances, the craziest games, the hardest quizzes, and the hottest dancers. Be sure to root for your favorite teams in this US vs UK showdown. There's something for everyone at the wildest night in the DMV so bring the whole family and pop out. IT'S CRAZY! - IT'S WILD - and IT'LL MAKE YOU SMILE ▬▬▬▬▬▬▬▬▬▬▬▬▬▬▬▬▬▬ ABOUT▬▬▬▬▬▬ The Big Clash is a live and entertaining Gameshow, founded in January 2011, and is now in its 7th season with over 50 UK Universities taken part, reaching up to 5,000 students every year. This is more than a gameshow, we bring peopel together for good vibes and provide a platform for self expression, development. All in the love of positivey and culture.  Hosted by Whitney Veniya & Mistar Alvin who have consistently brought joy and laughter to our live events, with their energetic and engaging personalities. Combine that with The Big Clash's unpredictable settings you should expect bold banter, crazy characters, sensational reasons to smile and wonderful wild moments to cherish for the whole summer. ▬▬▬▬▬▬ THE GAMESHOW ▬▬▬▬▬▬ The Big Clash creates amazing experiences through live events. We promote positive behaviour and light-hearted banter. The competitive nature keeps the anxiety to win. Also gives everyone a united purpose when coming to a show, to see a winner or to see your team triumph against an opponent. ▀▀▀▀▀▀▀▀▀▀▀▀▀▀▀▀▀▀▀▀▀▀▀▀▀▀▀▀▀▀▀▀ IMPORTANT TICKET INFORMATION ▀▀▀▀▀▀▀▀▀▀▀▀▀▀▀▀▀▀▀▀▀▀▀▀▀▀▀▀▀▀▀▀ Event requires a valid ticket for entry. - Non Students are WELCOME. :)- Tickets can only be obtained here online. There are NO paper tickets. - Refunds will NOT be accepted. Please Note: All tickets are first come first seated. - There are NO reserved seats. ▀▀▀▀▀▀▀▀▀▀▀▀▀▀▀▀▀▀▀▀▀▀▀▀▀▀▀▀▀▀▀▀DISCLAIMER▀▀▀▀▀▀▀▀▀▀▀▀▀▀▀▀▀▀▀▀▀▀▀▀▀▀▀▀▀▀▀▀ + By purchasing A ticket(s) you have agreed to be featured in our photos and footage. FAQsWhat is the refund policy?There are NO refunds on tickets for this event. Are there ID or minimum age requirements to enter the event?No minimum age and IDs are not required.  What can I bring into the event?Your energy and smiles. If you wish to show support bring posters and country flags. Is it ok if the name on my ticket or registration doesn't match the person who attends?Yes, however, once a ticket is scanned, you will not be allowed re-entry. https://thebigclash.eventcube.io/events/13574/the-big-clash-uk-v-usa
Samuel L Myers Auditorium, 14000 Jericho Park Rd, Bowie, MD 20715, MD, 20715
Event Details
UK v USA

Be a part of the fun! The Big Clash Gameshow presents its FIRST BIG CLASH GAMESHOW IN THE United States. We've invited TWO All Star USA Teams to take one All Star UK team. Competing to be crowned CHAMPION.
▬▬▬▬▬▬ TeamUK v Team US ▬▬▬▬▬▬
Joining forces with Dark Diamond Entertainment to bring everybody a night of culture and entertainment. With the best performances, the craziest games, the hardest quizzes, and the hottest dancers. Be sure to root for your favorite teams in this US vs UK showdown. There's something for everyone at the wildest night in the DMV so bring the whole family and pop out.
IT'S CRAZY! - IT'S WILD - and IT'LL MAKE YOU SMILE
▬▬▬▬▬▬▬▬▬▬▬▬▬▬▬▬▬▬
ABOUT
▬▬▬▬▬▬
The Big Clash is a live and entertaining Gameshow, founded in January 2011, and is now in its 7th season with over 50 UK Universities taken part, reaching up to 5,000 students every year. This is more than a gameshow, we bring peopel together for good vibes and provide a platform for self expression, development. All in the love of positivey and culture.
Hosted by Whitney Veniya & Mistar Alvin who have consistently brought joy and laughter to our live events, with their energetic and engaging personalities. Combine that with The Big Clash's unpredictable settings you should expect bold banter, crazy characters, sensational reasons to smile and wonderful wild moments to cherish for the whole summer.
▬▬▬▬▬▬
THE GAMESHOW
▬▬▬▬▬▬
The Big Clash creates amazing experiences through live events. We promote positive behaviour and light-hearted banter. The competitive nature keeps the anxiety to win. Also gives everyone a united purpose when coming to a show, to see a winner or to see your team triumph against an opponent.
▀▀▀▀▀▀▀▀▀▀▀▀▀▀▀▀▀▀▀▀▀▀▀▀▀▀▀▀▀▀▀▀
IMPORTANT TICKET INFORMATION
▀▀▀▀▀▀▀▀▀▀▀▀▀▀▀▀▀▀▀▀▀▀▀▀▀▀▀▀▀▀▀▀
Event requires a valid ticket for entry.
- Non Students are WELCOME. :)
- Tickets can only be obtained here online. There are NO paper tickets.
- Refunds will NOT be accepted.
Please Note: All tickets are first come first seated.
- There are NO reserved seats.
▀▀▀▀▀▀▀▀▀▀▀▀▀▀▀▀▀▀▀▀▀▀▀▀▀▀▀▀▀▀▀▀
DISCLAIMER
▀▀▀▀▀▀▀▀▀▀▀▀▀▀▀▀▀▀▀▀▀▀▀▀▀▀▀▀▀▀▀▀
+ By purchasing A ticket(s) you have agreed to be featured in our photos and footage.
FAQs
What is the refund policy?
There are NO refunds on tickets for this event.
Are there ID or minimum age requirements to enter the event?
No minimum age and IDs are not required.
What can I bring into the event?
Your energy and smiles. If you wish to show support bring posters and country flags.
Is it ok if the name on my ticket or registration doesn't match the person who attends?
Yes, however, once a ticket is scanned, you will not be allowed re-entry.
Media
UK v USA Promo Video
Infinity Mix
She Don't Text #TheBigClash Finalists